Easy Finance Token Continues to Soar after a Successful Launch
---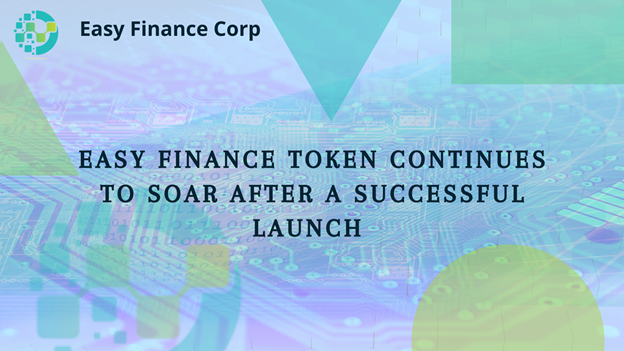 US, Indiana, 13 Nov 2021, ZEXPRWIRE, Easy Finance Token, an all-in-one DeFi Solution continues with impressive growth after a successful launch. In the first month of November alone, the project achieved some significant milestones. It achieved Coinmarket and coingecko's listing. It also pulled over 2,700 ETF tokens and hit a $100,000 daily trade volume. Its Twitter community also grew exponentially, crossing 6100 followers. Easy Finance Corporation is based and licensed in the United States.
The project, which is one of the latest to be launched in the DeFi world, is quickly gaining popularity among cryptocurrency users due to its unique solutions that meet the users' needs. The project was built to create financial freedom for users of all levels of experience in all economies. Its low supply of 100,000 coins makes it one of the most interesting projects right now. A huge increase in the token price is to be expected in the following weeks as it gains momentum.
What are the Project Features?
The Native Token – EFT
Easy Finance Token (EFT) is the native digital asset for the project's ecosystem. The token is designed with BEP-20 standards meaning traders can easily swap it to BNB, other BEP-20 tokens, and even wrapped coins. The coin is also tradable on PancakeSwap. The token has recorded a tremendous rise in value, currently trading at over $10. It is also the governing token in the DeFi ecosystem. The token has a circulating supply of 55,000.00 EFT and a market cap of $2,273,629.
Decentralized Exchange (DEX)
The project will launch an autonomous trading exchange with their native token, EFT, and other BP-20 tokens. It will provide high liquidity since the number of BEP-20 tokens is increasing. It will have an intuitive interface suitable for both users of all levels of experience. The swapping process will be short and straightforward.
Centralized Exchange (CEX)
The project will also have a centralized exchange (CEX) that will enable simplified buying and selling of easy finance tokens. This exchange will cater to users who would want to trade their assets in a centralized environment.
Banking
Another product in the line is the banking service that will be available to everyone across the world. For the native coin, EFT holders will be able to use the digital tokens with their savings account and have a debit card connected to it. The project is also planning to use paper and coin versions of the currency for in-store use like the fiat currency.
Farming
The project will also include farming, where users can lock EFT tokens for a given period of time and earn interest on it.
What does the future look like for Easy Finance Token?
Easy Finance Token has proved to be successful so far. The token liquidity on PancakeSwap is increasing on a daily basis. This will likely lead to more adoption of the token, which will only continue its current impressive rise in value.
To learn more about the project and the upcoming events, check the links below:
Media contact:
Name: Joe Zurawski
Email: [email protected]


2021/11/13 21:28