Artsted - a new contemporary art platform bringing unprecedented price transparency to the primary market
---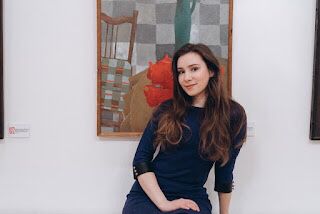 London, England, 11 Oct 2021, ZEXPRWIRE, Artsted is a global online sales art marketplace working on encouraging transparent and meaningful connections between artists and art collectors - the test version of the platform went live last week. Based on an innovative proprietary algorithm, Artsted strives to put a halt to confusion, price fixing and information asymmetries in the art market. As a result of this framework, the project positions itself in the niche of trusted market insight, which in turn brings the attention of a new generation of art collectors interested in affordable investment opportunities and looking to build future-proof collections that hold value.
Artsted's mission is to nurture emerging creators' careers, letting them operate as self-auditors as they make their way up the global art market - and help a new generation of art collectors make use of unprecedented tools that display transparent price analytics and market insights into the emerging creators' work.
Artsted's focus on emerging art investment is due to the founders belief that the market disruption can only happen in a bottom-up movement, where a unified self-audit standard is set for all artists pursuing a professional career. It starts with creating a publicly available and comprehensive set of analytics connected to artwork evaluations. The system Artsted platform is using is based on non-transactional data analytics and charts connected to artists' CV entries, processed using a proprietary algorithm. Once an artist joins the Artsted platform, they are immediately able to create a digital track record that later develops over time to reflect their career performance & progress. At the same time, this tool also benefits collectors, as they are provided with instant analytics and evaluations including real-time market updates.
In addition, the platform provides targeted advertisement to favour creators' visibility and sales. The best part is that all these services are free for the artists. The company behind the project - a UK-based Artisfact ltd has been backed by a number of angel investors and venture capitalists, among which the Atomind Group. Besides the technology aspect Artsted takes an approach that differentiates it from the rest of art market companies by highlighting the proximity and transparency values: unlike physical galleries that take up to 50% in commission on each sale, Artsted reduces it to 35% on behalf of the platform.
The founders say "We have worked hard over the past year and built and tested a well-functioning product with a unique proprietary algorithm as well as acquired and an ever-growing base of over 400 eligible creators and dozens of collectors with verified institutional background as part of our MVP rollout. buy art online We are now ready to go into the next funding round to scale up and expand our operations globally, as the response from our users on both sides of the transaction has only been positive which has confirmed we are on the right path."
About Maryna Rybakova, CEO Artisfact Limited
Maryna Rybakova is an art & technology entrepreneur, she is the CEO & Founder of Artisfact limited, the company behind the Artsted project. Maryna has also co-founded and is currently leading a non-profit organization ReA! Arte, the creator of ReA! Art Fair -an independent emerging artists fair in Milan, Italy.
Media contact:
Website:http://www.artsted.com
Address: London, England
2021/10/12 00:10